Spruce Up Your Dining Room With the Country Shaker Dining Collection Featuring Real. Wood. Furniture.
---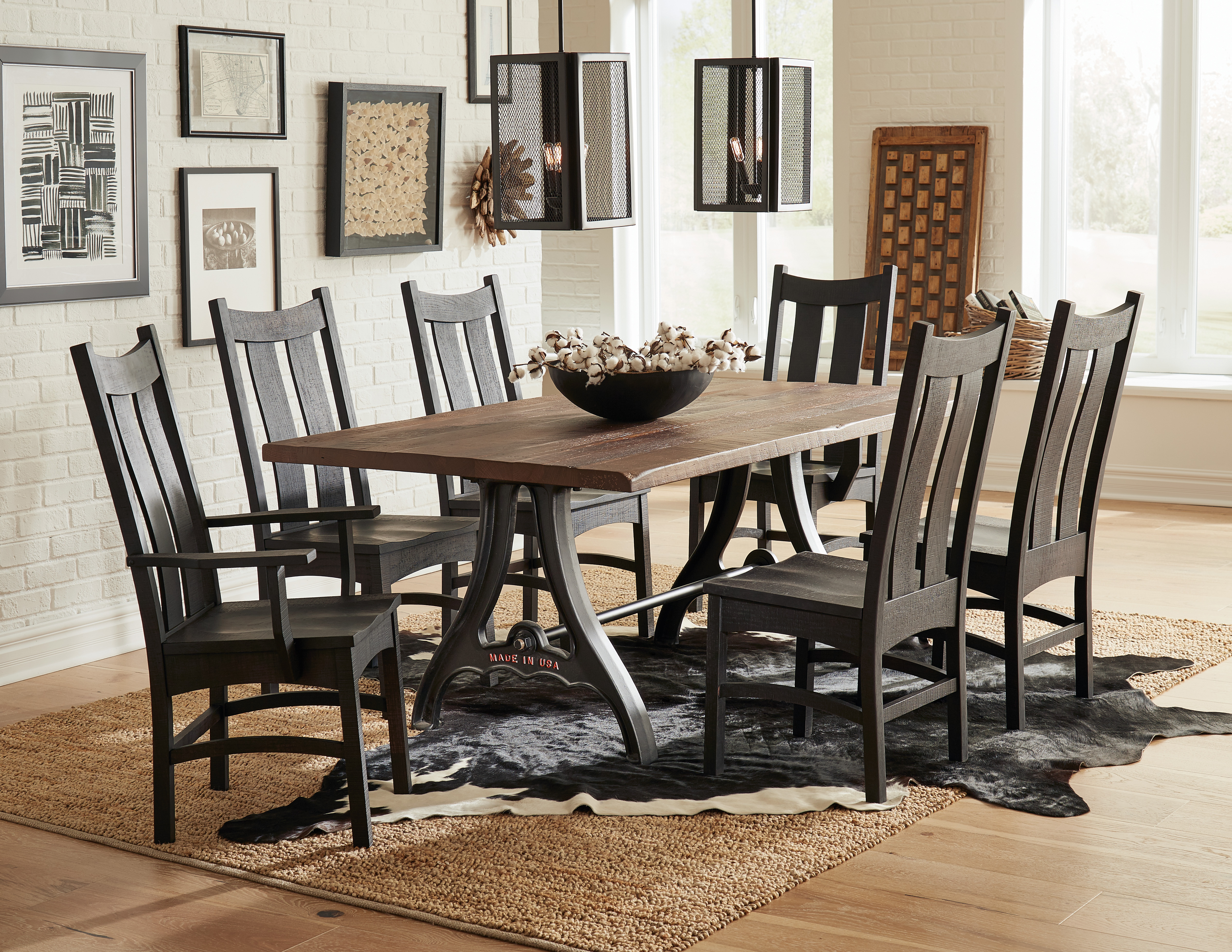 We're pleased to present the Country Shaker Dining Collection as part of our Real. Wood. Furniture.
This dining set is the perfect fit for any home and any size family to enjoy a meal, have a game night, or to entertain.
It has an "Industrial" feel to it and would fit in a cabin styled rustic room or something clean and modern. It really depends on the surroundings of the set to determine the style. This particular set would look excellent with a metal lighting fixture and wood floors.

As with everything we make, this collection was handcrafted in a small Amish woodworking shop.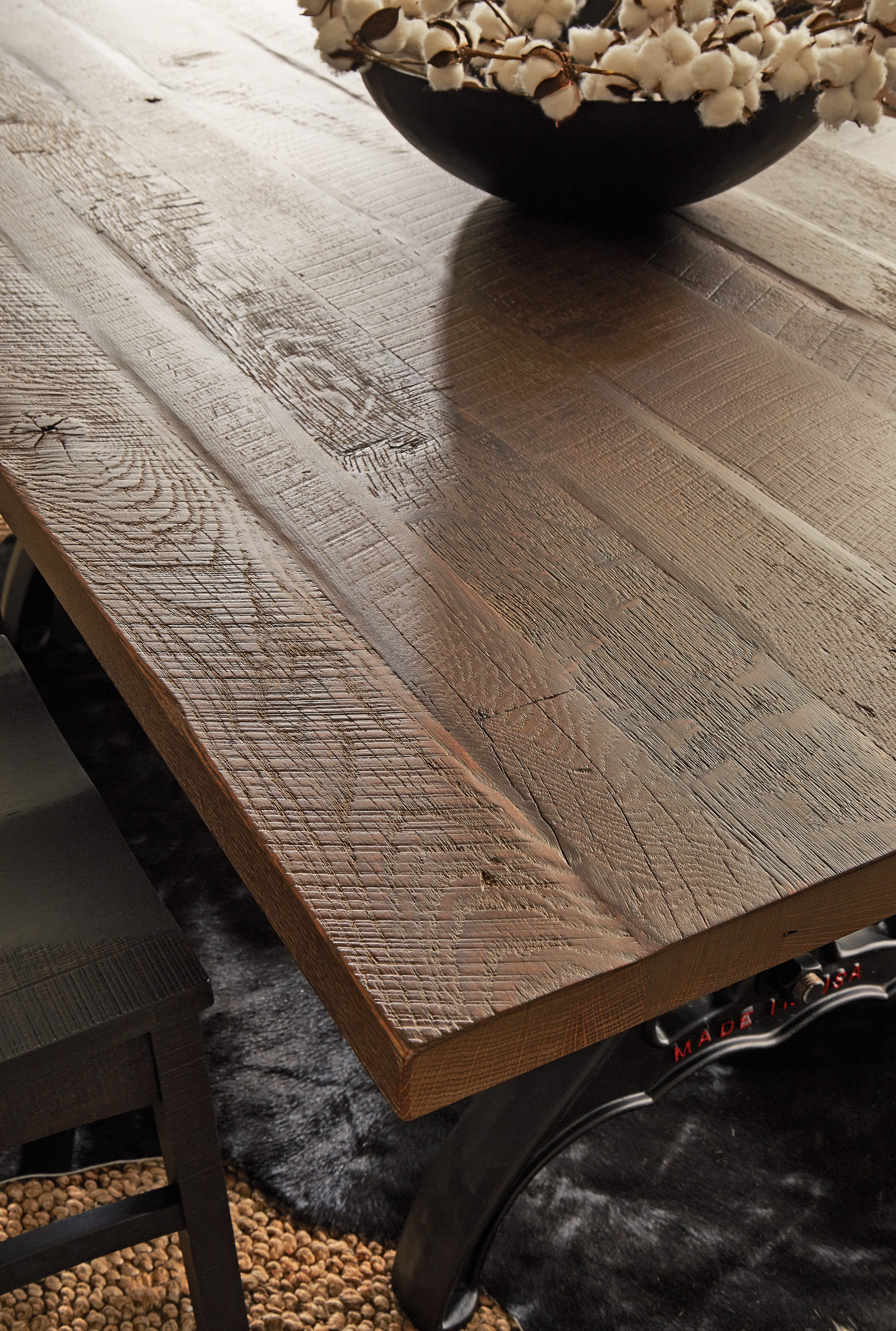 This particular set is shown in Reclaimed Barnwood with a metal base.
The Barnwood feature is something that most everyone these days is very captivated by.
It's all reclaimed Oak, so it is very strong, solid, and has the naturally "aged" look that comes with old barns.
Different stain and glaze colors can be added to give different shades of color.
All the wood parts of the Country Shaker dining collection were built using (North American) reclaimed barnwood.
When old barns are disassembled, the age-old lumber is salvaged and made into exquisite looking pieces of furniture.
This is an excellent way to preserve the old and vintage and give the valuable natural resource –wood—a second life.
The base is metal and was crafted in a small local shop.
Real. Wood. Furniture. is generational.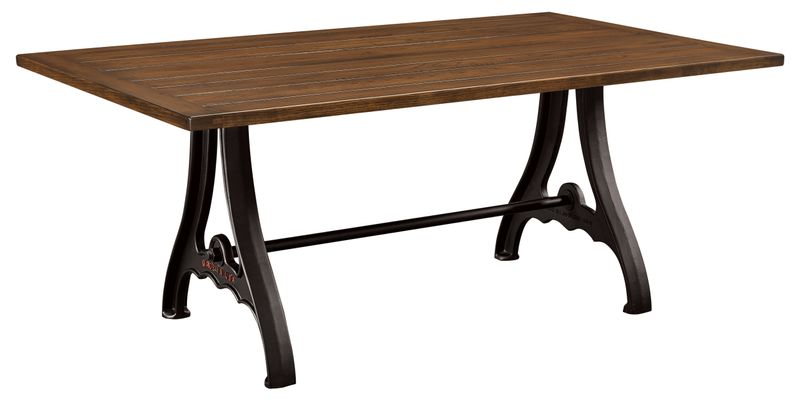 With just a little TLC, a collection like this will become one of the family heirlooms.
Some customers ask: "What about bugs and any insects in Reclaimed Barnwood?" and "What about all those knot and nail holes. How would I clean food out of that in my table top?"
After a barn is disassembled, the lumber is hauled to the lumber yard where it undergoes a cleaning and drying process.
All the lumber is run under a metal detector twice where the nails are marked and removed, then stacked for drying. It's then kiln dried to 7-8% moisture, the level for all lumber for furniture manufacturing, and to exterminate all those bugs and insects that may have been lodging there.
For knot and nail holes we have a great, quick solution: Epoxy. This keeps the look natural, yet creates a smoother user experience.
This set is fully customizable—as is all of our Real. Wood. Furniture.
Any size table

Solid Top or Extension with X-amount of company leaves

Any type of North American Hard wood can be used

Any Stain or paint colors

Any Chair featured at Railside Furnishings can be used

Many different styles of metal bases are available
Custom orders do not take any longer than our normal 8-10 week lead-time. Learn more about custom orders.
We do custom orders all day, every day.
That's what Railside Furnishings is all about!