Elran's 4058 Kendall Upholstered Lounge Furniture Collection Brings Comfort and Beauty to Any Living Room
in
Overstuffed Lounge Furniture
---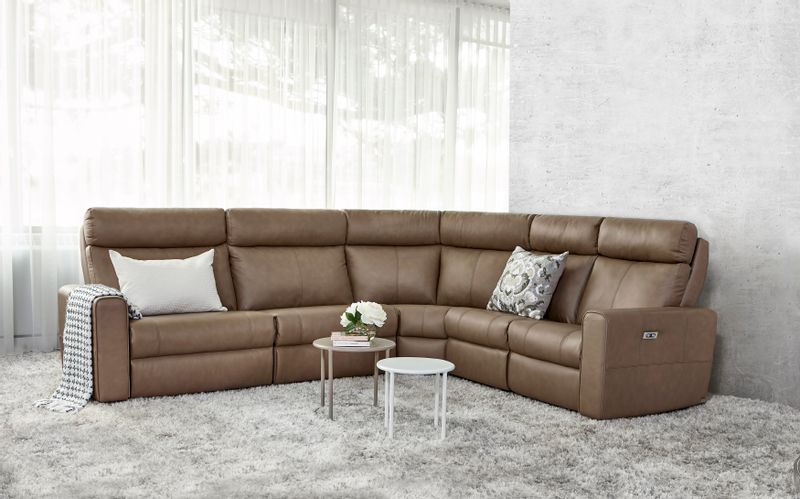 We've recently introduced Elran's line of upholstered living room furniture (a new line to our showroom), which fits in nicely alongside our collection of Real. Wood. and Live Edge options.
If you're not already familiar, click over to learn more about the Elran upholstered furniture available at Railside Furnishing's showroom in Mifflinburg, Pennsylvania .
The family-friendly sofa featured above sports the popular coffee color with leather fabric and dual recliners that creates a great relaxing experience for family movie night or entertaining. Over 50+ amazing top-grain, real leather colors, and 100's of fabric choices.
With 800 configurations, customization is standard. All sectionals styles can be made to create a sofa, love-seat, recliner, seat and a half, or sofa chair. That means larger families (or people with larger spaces) can add sections to enlarge the sofa to meet their specific needs.
This sofa, the Elran 4058 collection, can have a matching love seat or chair created and can pair with a coffee table to complete the room.
Every piece is handmade and inspected. At Railside Furnishings we only offer products that we would want in our own home; quality is a tradition.

---
Other Features of Elran's Upholstered Lounge Furniture:
Swivel base available on most rocker recliners for a minimal cost.
Reclining or stationary (s

tationary options available depending on the model)

Manual recliner (handle) or power recliner (push button).

On certain models the footrest, back, and headrest are power operated. This is SUPER comfortable!

23" and 33" seat options allow the customer to create their own sizes.  One 33" seat is called a "seat and a half".
On a sectional the customer can choose, for example, 3-23" seats and 2-33" seats. It's the art of options.